The T-shaped employee has become a new "hot-search" in the recent decade, especially after the pandemic. Employers recognise the lack of workforce in certain positions leads to the failure of functioning in the company. Therefore, the "T-shaped" employee was evaluated as an economic revolution that drove business performance more comprehensively during the difficult time.
Employers' demand changed from I-Shaped into T-Shaped
Many survey responses illustrate that the executive board of several corporations acknowledge that T-shaped employee fulfil their demands to accommodate the lack of workforce. In a recent research, McKinsey Global Survey, 87% of CEOs recognised skill shortages in their workforces; yet, fewer than 50% of respondents had a clear strategy for addressing this issue. The COVID-19 problem has further increased the urgency of this issue. From learning new technology at home to managing sales connections remotely and interacting online with coworkers, the demand for employees to acquire new skills is on the rise.
As a futurist who has assisted businesses in anticipating change for almost two decades, I have observed the shift from employing experts to recruiting generalists. I think we are on the verge of adopting a hybrid paradigm in which the most valued workers are interprofessional.
T-shaped individuals are subject-matter experts in at least one field and knowledgeable or competent in many others. In contrast to generalists and I-shaped personnel, T-shaped individuals are experts in at least one area and knowledgeable or skilled in numerous others.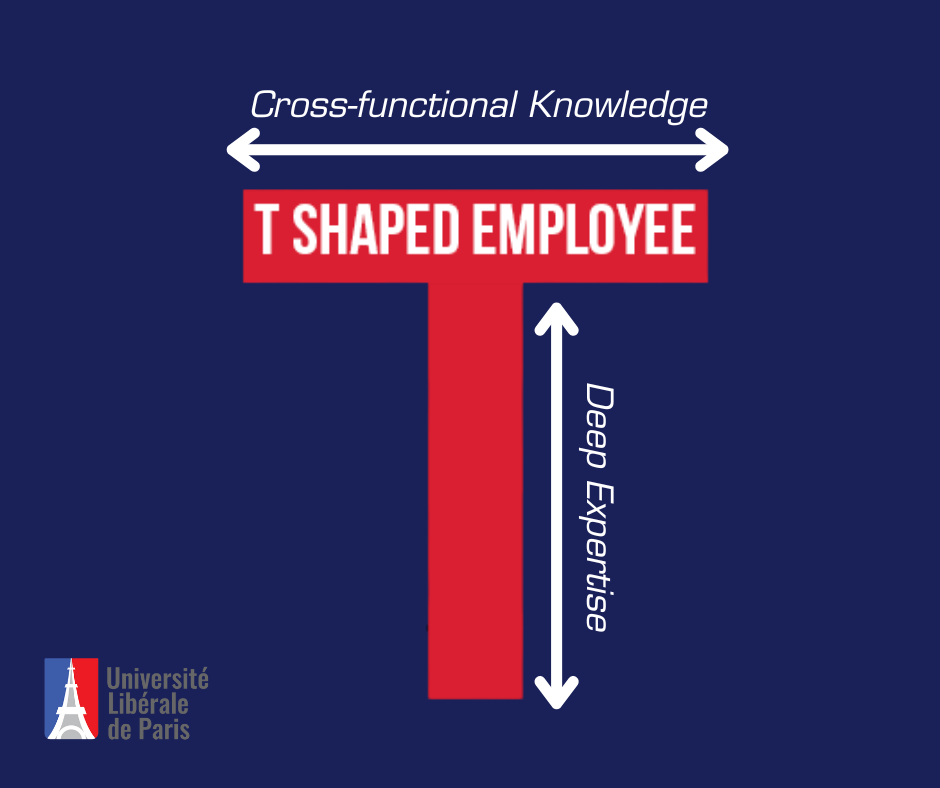 Additionally, Tim Brown, CEO of IDEO Design Consultancy, invented the term "T-shaped person" in the 2000s, or McKinsey & Company did it in the 1980s. In either case, the vertical bar on the letter T represents the depth of your skills and expertise in a single field, whereas the horizontal bar represents your breadth, or your ability to collaborate across disciplines with experts from other fields and apply your knowledge to areas outside your primary field.
T-shaped employees fulfill tasks and more 
In other words, T-shaped personnel thrive at both their main jobs and other tasks. In addition to technical capabilities such as programming or design competency, T-shaped individuals also exhibit cognitive abilities such as emotional intelligence and creativity. Their capacity to contribute, fill in, and solve problems makes them high-performers who can increase an organization's total output.
According to Jason Yip, a senior agile coach at Spotify, non-expert jobs may be delegated to T-shaped team members since not all daily tasks need an expert. Due to the fact that their abilities and expertises are not confined to a specific area, they may contribute to a variety of organization-wide tasks. This kind of cross-functional work fosters cross-training, allowing executives to do more with the same number of employees.
Conclusion
To begin cross-training your employees, you must first determine the most important jobs and abilities in a certain department. Because it is simpler to learn skills and technology that are comparable to what we already know, many employers suggests cross-training at transition points between roles. Cross-training in adjacent tasks facilitates seamless handoffs and ultimately enables workers to step in and do the required task.
Paris-U applies "T-shaped" teaching model in every programs aims to develop students' knowledge more comprehensively and prepare working experiences. As an employer or an employee you can always register courses in creditable institutes to improve yourself. 
To understand more about Paris-U's programs, read here. 
Reference
Bodell, L. (2022, April 14). Why T-shaped teams are the future of work. Forbes. Retrieved August 13, 2022, from https://www.forbes.com/sites/lisabodell/2020/08/28/futurethink-forecasts-t-shaped-teams-are-the-future-of-work/?sh=11e621df5fd